Energy & mines
(Madrid Office)
Team
Experience in Energy
The members of this area have experience of more than 15 years working in the sector:
Including electricity, gas, petroleum and renewable energies, upstream and downstream.
Within the national market and international markets (the United Kingdom, Mexico, Paraguay, the Philippines, Equatorial Guinea, Canada, Panama or the Dominican Republic).
Advising governmental entities, private operators and financial entities.

The relevant experience includes, among others:
The registry of energy operations in Spain as couriers, distributors, sellers, market agents.
The design and development of structured financial operations of renewable energy projects, photovoltaic, wind, thermo-solar, biomass.
The advising in IPP projects, including legal review, acquisition contracts, financing contracts, granting of licenses, EPC contracts, O&M contracts, connections contracts and off-take contracts etc.
The drafting and negotiation of gas sale purchase contracts, electricity and petroleum, with producers, sellers, qualified consumers in national and international transactions.
Energy trading on the basis of the EFET, ISDA models or bilateral contracts. The analysis of their effectiveness in Spain, in particular of the netting-off and close out netting in cases of public bidding processes of the Spanish party.
The application of ATR or TPA (Third Party Access) to the electric network or the gasoduct network as well as the handling of access conflicts.
The drafting and negotiation of exploration contracts, operations and production (JOA, PSC, concessions).

Mining
The relevant experience in mining includes:
Advising on regulatory topics, including legal framework, environment, operating concessions, research licenses, operating licenses, Registry of Mines or restoration.
Financing, including viability studies, evaluation of resources (NI-43101), subsidies, loans, syndicate loans, sales contract for future production, capital risk, issuance of obligations.
Mergers and acquisitions, including due diligence, memorandum of understanding, sale purchase agreements, operating contracts, participation contracts, royalties, company restructuring.
Exploration activities, research, operation, exploitation, marketing, purchase agreements, leases of land, drilling contracts, works contracts, EPC contracts, contracts for delivery of production, etc.
Relations with local agents, including local, autonomous and national Administration.
Global Mine Network
Global Mine is an international network of member firms of Globalaw that acts together as advisors. The firms work together in order to provide clients with an unbeatable capacity of advising on large and sophisticated mining transactions.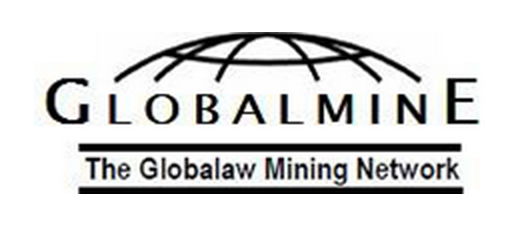 Global Mine offers:
Experience. More than 50 lawyers specialized in mining and with experience.
Global capacity. Including exploration, research and closing.
International coverage and local knowledge. Offices in Argentina, Australia, Bolivia, Brazil, Canada, Chile, Columbia, Ecuador, Guatemala, Mexico, Peru, Spain, the United States of America and Uruguay.
GlobalMine - International Coverage, Local Knowledge
Globalaw - Basics of Mining Law: Selected Jurisdictions