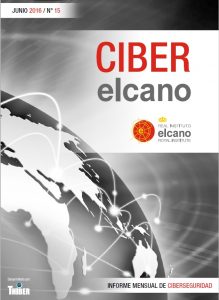 The founding partner of MAIO Legal, Ángel Vallejo, publishes in June edition of Ciber Elcano an article about NIS (Network and Information Systems) Directive.
Ciber Elcano is a monthly report about cybersecurity edited by Royal Institute Elcano and devoloped by  the think tank Thiber.
The article is as of page 6 and you could read it here.
The news agency Europa Press talks about this news. To read the complete information, please click here.
The Andalucian edition of the newspaper El Mundo, also published the news, clic here.
Atlántico Diario, newspaper from Galicia, published the news in its printed edition in its  Economic section, please click here to read it.
And these are not the only media that have talked about the news: Lainformacion.com, Law&Trends, 20 minutos, Andaluces Diario and Diario de Sevilla, as you could see in the picture below: