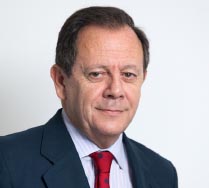 Administration
Employment
Litigation, Criminal Law and Insurance
Managing Partner of MAIO Martínez Escribano, Alfonso Martínez Escribano has been expanding his professional career since 1980 when he began practicing law. Prior to founding the MAIO Martínez Escribano office, he was a partner in the Labor Department of J&A Garrigues, S.L.P from 2006 until 2012.
He specializes in Labor Law and Social Security, basically on strategic aspects in the legal areas of employment and human resources. Likewise, he is an expert on Criminal Procedural Law, Administrative and Constitutional Law.
Alfonso Martínez Escribano has been included in various prestigious legal directories such as BEST LAWYERS and CHAMBERS & PARTNERS, which rank him as a leading lawyer in the legal profession in Spain.
Experience
Started legal practice (1980) and Judge of Court of First Instance (1981-1982).
Labor Judge in Huelva and Seville (1983-1985).
Lawyer admitted to practice before the Constitutional Court (1986-1988).
Labor Judge and Chief Justice Seville (1989-1991).
Head of the Technical Cabinet of the Presidency of the Constitutional Court (1992-1995).
Magistrate of the Superior Tribunal of Justice of Andalusia, in the Labor Division of Seville (1995-2004) and in the Contentious-Administrative Division of Seville (2004-2005)
Partner at J&A Garrigues, S.L.P. (2006-2012).
Legal Advisor of the Professional Association of Judges.
Education
Law Degree. University of Seville (1979).
Languages
Other Information
Collaborating Professor (1983-1985) and associate (1989-1992) of Labor Law and Social Security of the School of Law of the University of Seville.
Director of the Master's Program in Human Resources Management and the Expert Course in Human Resources Management of the Cajasol Institute of Studies from 2006.
Founding Member and President (1997-90) of the European Association of Labor Judges, Advisory Member of the Management Board (2001-2001) of the Spanish Association of Labor Law, Member of the National Association of Labor Lawyers, Member of the Spanish Forum of Labor Lawyers, Member of the Association for the Management Progress. Publications:
                              Business liability in occupational accidents (Madrid, 1987).
                               Ordinary Judicial Protection (Madrid, 1994).
                              Consequences of a Dismissal (Madrid, 1997).
                              Complementary Labor Outlook (Madrid, 2001).
                              Human Resource Practicum (Thomson Reuters Aranzadi, Madrid, 2014).
Numerous seminars and conferences on the subjects of his expertise.
Awards
Co-decorated with the Cross of Honor of Raimundo de Peñafort, awarded by the Ministry of Justice.
Included in various directories such as the BEST LAWYERS directory (from 2011, having been recognized as the best labor lawyer in 2013 in Andalusia and in 2015 as the best labor lawyer in Seville) and CHAMBERS & PARTNERS directory, as one of the leading experts in Labor Law.