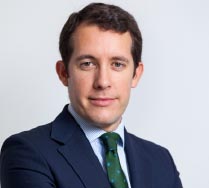 Finance & Banking
Real Estate Insolvency
Corporate commercial law
He was placed in charge of the area of private law at MAIO Martínez Escribano, after having gained experience and knowledge in the firm, J&A Garrigues, S.L.P and subsequently in Abengoa, S.A., one of the leading companies in the energy sector and the environment. A lawyer specialized in commercial, civil and corporate matters and with broad experience in the development of projects in the national and international areas.
Experience
J&A Garrigues, S.L.P. (2006-2012, Madrid).
International Legal Advisor at Abengoa Solar, S.A. (2012, Madrid).
Corporate Legal Advisor in Abengoa S.A. (2013).
Education
Law Degree. University of Seville (2005).
European Higher Legal Studies and visiting student LLM Program. University of Leicester, United Kingdom (2005).
Master's Degree in Business Law. Garrigues Center of Studies (2006).
Doctorate in the Department of Commercial Law of the University of Seville.
Languages
Other Information
Professor for the Executive MBA Program of the University of Seville.
Coordinator of the work: Practicum Recursos Humanos (Thomson Reuters Aranzadi, Madrid, 2014).
Seminars and conferences in Corporate Law and Corporate Governance.