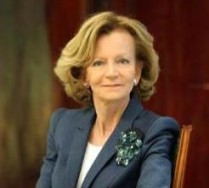 Current activity
Strategic advisory and economic consulting.
Senior Advisor at MAIO Legal, SLP.
Member of the International Advisory Board of ABERTIS, one of the leading infrastructure companies.
Member of the Europe Advisory Council of TRILANTIC Capital Partners.
Previous activity
Deputy Prime Minister and Minister of Economy and Finance Member of Parliament.
Minister of Public Administrations.
Minister of Health and Consumer Affairs.
Top-level managerial posts in various private companies in the technology sector.
Managing Director of Lenzi Consulting.
Secretary of State for Communications of the Ministry of Public Works, Transport and Environment.
Director General for Personnel Costs and Public Pensions (Ministry of Economy and Finance).
Director of Department (Ministry of Industry and Trade).
Board memberships (1985 – 2004)
Hunosa, Renfe, Trasmediterranea, Fábrica Nacional Moneda, Hispasat, Telefónica, Retevisión, Arthur Andersen, Abertis and Telecom.
Education
Industrial Engineer, specializing in Energy.
Polytechnic University of Madrid.
Graduate in Economic Science.
Complutense University of Madrid.
MBA.
EOI Business School.
Languages