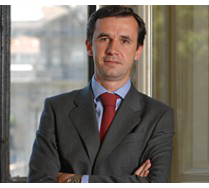 A practicing lawyer since 1997. Founding partner of MAIO.
Experience
Director at KPMG Abogados.
Managing Director of the Tax Department of  Castro, Sueiro & Varela.
Likewise, he worked in the tax-legal advisory department of Telefónica de España, S.A. and was partner at Cremades & Calvo-Sotelo where he also directed the Tax Law Department.
Education
Law Degree from the Universidad Autónoma de Madrid. Member of the Bar Association of Madrid.
Master's Degree in Tax Law from the Universidad San Pablo CEU, where he was the valedictorian of his graduating class.
Languages
Other information
Ignacio Arráez is member of the Spanish Association of Tax Advisors (AEDAF) where he manages the Cabinet of Studies of the Madrid Delegation. Moreover, he is a member of the Section on Rights and Guarantees of Taxpayers of said association.
He is a Tax Law Professor at the Business School of the Universidad San Pablo CEU.
He is the co-author of three books on tax matters:

Global E-Bussiness Law & Taxation – edited by OXFORD University.
Sociedades Profesionales (Professional Entities)– edited by LA LEY and sponsored by Iberdrola.
VII Congreso Tributario – edited by the AEDAF.

Regularly publishes articles on current tax matters in the economic and specialized press.
A regular conference speaker on tax matters.
He is member of the Board of Directors of various companies, among which is PRIM S.A., a listed company.
Recognitions
A lawyer highlighted in the directory CHAMBERS & PARTNERS.
A lawyer highlighted in the directory BEST LAWYERS.
Best Tax Lawyer of 2013, in the British publication ACQ.
The tax department of Castro Sueiro & Varela, which he directed, was considered, both by the publication Tax Directors Handbook as well as by LEGAL 500 US Edition, as the benchmark firm in the Spanish tax area and was awarded the distinction of  the"Corporate Tax Law Firm of 2010" by the British magazine, ACQ.