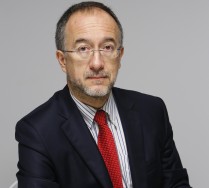 His professional career has been as a legal counsel in the Law Service of the Social Security General Treasury  of San Sebastián and Pontevedra (located in Vigo), being the Chief Counselor of the referred institution in Pontevedra.
Additonally, he was the Head of the labour department in Garrigues Abogados.
In academic terms, he developed his career in the Universidad de Vigo from 2001 to 2006, being an associate professor in Public Law, a professor in Procedural Law, a contributor of the Social Securiry and Labour Lagal Department, and professor of the specialized course in Social Security. He has also been professor of the Legal Affairs Master in Caixanova´s business school.
Education
Law Degree from U.N.E.D (Madrid).
Public official in The Corps of Lawyers of the Social Security Administration (leave of absence status).
Doctoral courses in Public Law from Universidad del País Vasco (San Sebastián).
Personal Coaching degree from the European Coaching School.
Languages
Spanish, Galician and English.