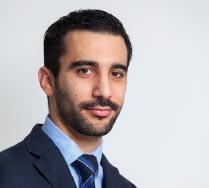 Lawyer at MAIO Martínez Escribano since July 2013.
Education
Law Degree. University of Seville (2011).
Diploma in Public Management and Administration. University of Seville. (2011).
Master's Degree in Legal Business Consulting. Cajasol Institute of Studies. (2013).
Languages
Spanish, English and Italian.
Other Information
Collaborating professor of the Master's Degree Program in Legal Business Consultancy and Human Resources Management of the Cajasol Institute of Studies since 2014.
Co-Author of the works Practicum Recursos Humanos (Thomson Reuters Aranzadi, Madrid 2014) and Innovación Educativa en el Aprendizaje Jurídico (Mergablum Edición y Comunicación, 2012).