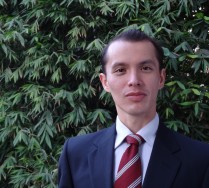 Cinematography
Corporate commercial law
His practice revolves around the areas of corporate law, finance and the cinema industry.
He has knowledge of public international law arising from his tenure with the Secretariat of Foreign Relations and his active participation in various international forums.
He has participated in various operations and transactions related to private placements of share and debt instruments of Mexican companies. He has collaborated on the restructuring of company groups and the granting, restructuring and administration of private credits, participated in public bidding processes as well as assisting with foreign companies for the development of their businesses in Mexico.
In the Mexican Academy for Professors of Family Medicine, A.C. he has served as a translator at various international colloquiums held during 2004-2006.
Education

Law Degree from the Insurgent University.
Participated in various Seminars on International Law, given by the Institute of Legal Research of the National Autonomous University of Mexico.
Languages

Spanish, English and French.