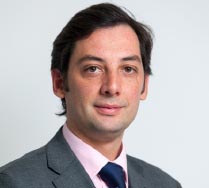 Administration
Employment
Litigation, Criminal Law and Insurance
Having practiced law since 2008, he arrived at MAIO Martínez Escribano in 2013 after having worked at the firm, Molino Revuelta Abogados.
Education
Law Degree, specialized in companies. University of Seville (2007).
Advanced Course in Legal Internships (Cefoec, a center certified by the General Council of Spanish Advocacy and the Council of Andalusia (2008-2010).
Post-Graduate Degree in International Criminal Justice (Oberta University of Catalonia, 2011-2012).
Languages
Other Information
Awarded the Certificate of Professional Aptitude issued by the General Counsel of Spanish Advocacy (2010).
Member of the Office for Orientation and Legal-Penal Assistance of the Bar Association of Seville.
Co-author of the work, Human Resources Practicum (Thomson Reuters Aranzadi, Madrid 2014).