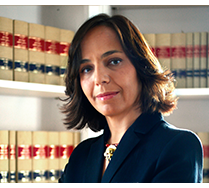 Ángela has pursued her career as an Employment Lawyer on a national and as well as international level since 1994, especially in matters related to Senior Executives, Collective Bargaining Negotiations and Corporate Restructuring.
Education
She has a Law Degree, with a concentration in Corporate Law, from the Universidad de Sevilla (1992).
Post-graduate degree in Human Resources from the Universidad Pompeu Fabra (1996).
Doctorate Courses in Employment Law at the Universidad de Barcelona.
Languages