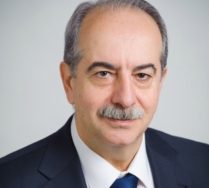 Current activity
President of Norcorporate, S.L.,  since January 2015.
Senior Advisor of Norgestion, since January 2014.
Of Counsel of MAIO Legal, since November 2016.
Independent Counsellor on Inveravante.
Independent Counsellor on Nueva Pescanova.
President of AFIGAL, S.G.R.
President of Instituto Tecnológico de Galicia (ITG).
Vice President of Bamboo Venture Capital (AVALANZA Group).
First Vice Presidente of  A Coruña Chamber of Commerce.
Member of A Coruña Consortium of Tourism.
Previous activities
CEO of BEGANO, S.A. (2002 – 2013).
President of A Coruña Port Authorities (1999 – 2002).
President of SESTICO (1999 – 2002).
Advisor of  ICEX (1996 – 1999).
Advisor of IGAPE (1995 – 1999).
Regional Industry and Commerce minister of  Xunta de Galicia (1994 – 1999).
President of Parque Tecnológico de Galicia, S.A. (1994 – 1999).
General Director for Employment of Xunta de Galicia (1993 – 1994).
General Director of  Galician Building Institute (IGVS) (1990 – 1993).
Managing Director of  Xestur-Coruña, S.A. (1981 – 1990).
Education
Degree in Civil engineering,  Technical University of Madrid, 1978.
Degree in Business Management from Internacional Center of Business Management (CINDE), 1983.
Degree in Business Administration, Technial University of Madrid, 1985.
Graduated in Advanced Studies (DEA) on applied Economics, University of La Coruña, 2004.
Other information
 Former managers in Business training courses organized by CONSULTORES ESPAÑOLES, S.A. (CECA) (1987 -1989).
Member of the Court of proyect evaluation MBA, University of La Coruña (2001-2010).