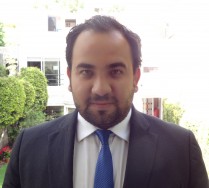 Litigation, Criminal Law and Insurance
A Legal Professional who has completed his studies in the Libre School of Law and Dutch College, he is an expert on the subjects of Administrative, Civil and Mercantile Litigation as well as on trials of a constitutional nature focused on constitutional rights trials in such areas. Likewise, he has expanded his professional practice in the areas of Public Contracting, advising and obtaining private contracts with the government of the Federal District and its delegations such as public bidding, direct awards, administrative licenses (PATR) and other public contracts.
Education

Law Degree from the Libre School of Law of Mexico.
Languages