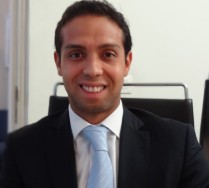 Real Estate Insolvency
Litigation, Criminal Law and Insurance
He has expanded his professional practice in the areas of administrative law, industrial, real estate, corporate and principally in the areas of civil, mercantile, administrative and constitution litigation in addition to being aware and participating in various commercial arbitrations. For more than 10 years, he has participated in all types of judicial procedures before local and federal courts, defending the interests of the parties which he has represented, principally in  administrative and commercial matters.  Likewise, he has participated in various federal and local public bidding processes as well as in the planning and structure of infrastructure projects at a federal level.
Education

Law Degree from the Free School of Law of México.
Courses in administrative, constitutional and litigation matters at the Free School of Law of Mexico.
Collaborated on various occasions with the Institute of Legal Research at the Free School of Law of Mexico.
Languages
Spanish, English and German.